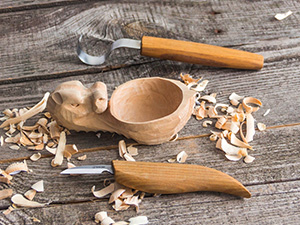 A wood carving knife is a specialised knife used to pare, cut and smooth wood. Wood carving knives feature small, thin, tapered blades made from materials such as laminated carbon steel, and often featuring oiled birch wood handles shaped to fit comfortably in your hand.
Wood carving is a great way to relax and take some time to destress. Let your mind rest while your hands are busy working on your latest creation. If you haven't experienced the art of wood carving you should definitely put it on your list.
We have a full range of wood carving kits for the beginner up to the professional along with individual knives and accessories. Feel free to contact us if you have any questions.