Sale!
Beaver Craft C17P Universal Detail Pro Knife (Palm Handle)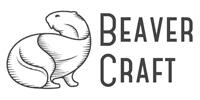 Knife Depot are an authorised dealer of all Beaver Craft products within Australia.
All products sold through Knife Depot are covered by Beaver Craft's manufacturer warranty.
The C17P Universal Detail Pro Knife from BeaverCraft is a reliable, functional, well designed tool ideal for both the initial form of a product and removing thin layers of wood, as well as delicate processing of hard-to-reach places. The tool will cope perfectly with the thread in the areas of rounding. The knife has one round cutting edge. This delicately balanced tool works well for getting into all confined areas. The fine blade and comfortable palm handle will work well for your best carving projects.
The blade is made of hardened high-carbon steel, and keeps sharpness for a long time. The high-quality steel and sharpening angle of this knife allows it to be used with soft and hard types of wood. The handle is made of ash wood and shaped for the palm. It is covered with natural linseed oil without toxic impurities, which makes it eco-friendly. The knife is equally suited for work with the right and left hand, and does not make the hand tired during long woodworking sessions. The tool is designed both for beginners and professional carvers.
Total length – 165 mm (6.49 inches)
Blade length – 40 mm (1.57 inches)
Blade width – 12 mm (0.47 inches)
Handle length – 65 mm (2.56 inches)
Weight – 120g
In stock
Live Count: Geelong Warehouse
6 left in stock.