CLICK HERE TO SEE OUR FULL RANGE OF MUELA KNIVES
Who are Muela? 
Muela, a knife manufacturing company based in Ciudad Real, Spain, was founded in 1952, and has been making high-end knives ever since. Majority of their knives are made from stainless steel, while a few of their more luxury and high end blades are made from pattern welded steel. Muela are know the world over for making knifes in several different categories using some of the best edge retension steels at a great price. The Muela range is huge and incorporates folding knives fixed blade knives, and they make a knife for just about every purpose imaginable.
Who Uses Muela One of Muela's largest markets is the hunting market. They produce some great skinning knives, filleting knives and also pig sticking knives. Muela have been in this market for a long time and ask anybody using one of their knives how they perform in the field and they will generally speak fondly of the brand. This is a testament to the functionality and quality of the blades.
Muela Hunting Knives Muela have a large range of large hunters ideal for carrying. These large hunters are great for all kinds of tasks and some of their more popular include the muela bowie 14, muela kodiak, and the muela kodiak 10G.
Muela Skinning Knives Skinning knives are generally used by hunters for field dressing. The blades will generally be much shorter and will not be as pointy at the end to avoid puncturing the organs of the animal. These knives also have a very rounded belly to help with removing the hide from the animal. A lot of skinners will also have a gut hook on the back of the blade to help with opening up the animal to remove the intestines again without rupturing the organs and spoiling the meat. A few of the most popular muela skinners include the Muela Cobra, Muela skiner knife, Muela Bisonte and Muela Kodiak.
Muela Folding Knives Muela also produce a large range of folding knives or pocket knives. Some of these include the famous Muela 10M, Muela 25M and the Muela GT-8M.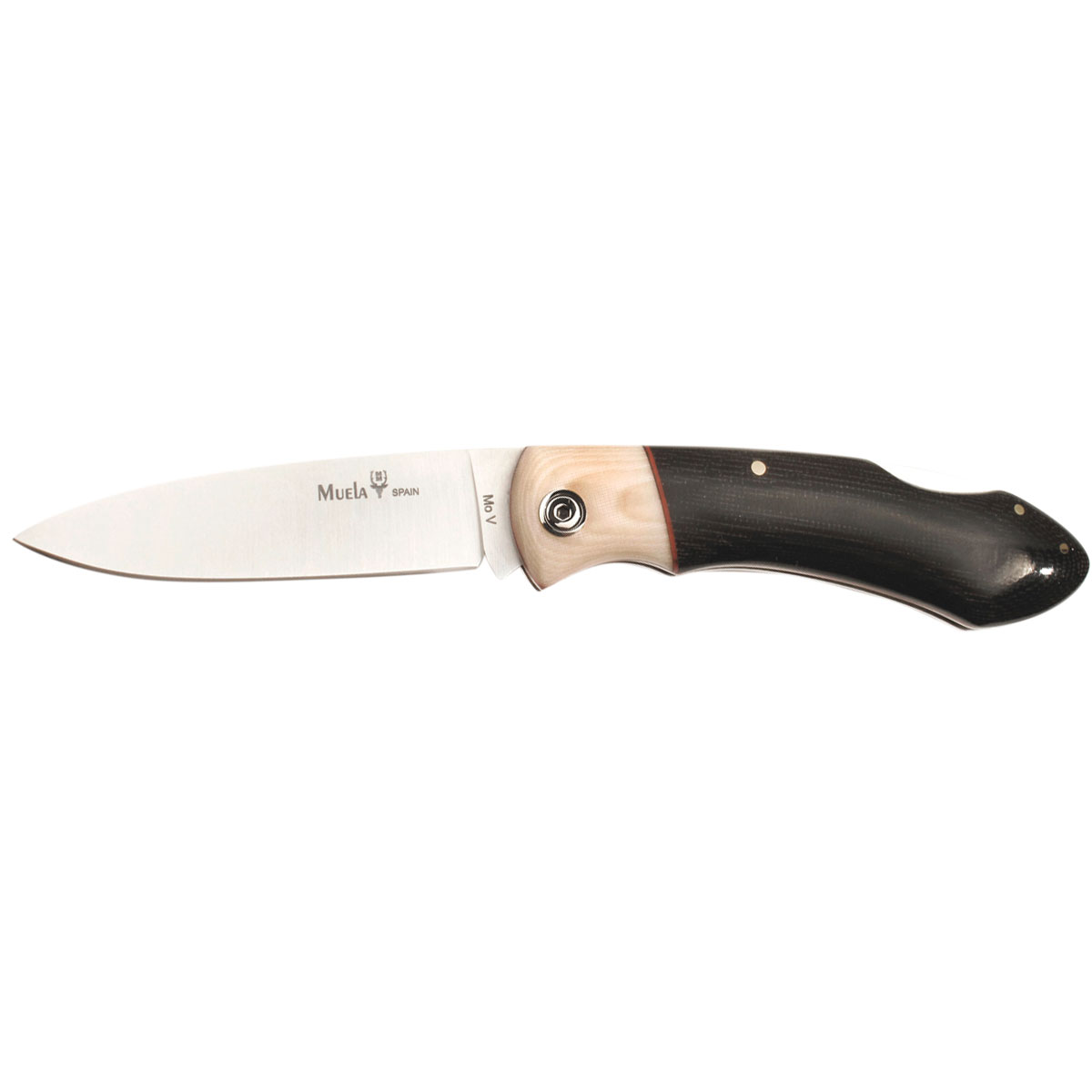 Muela Tactical Knives Muela have been making tactical and military knives nearly as long as they have been producing for the hunting market. The blades on their tactical knives are a mix of good edge retention and also blades that can take a bit of abuse. Military knives will  often be used for other tasks other than cutting for example being used as pry bars or for digging in the ground. For this reason their  range of tactical knives use steel that will bend slightly without breaking making them great general purpose knives.
Warranty
All Muela products purchased through Knife Depot come with a 2 year warranty. Any issues or faults with your Muela product caused through regular use will be fully covered and your product will be repaired or replaced.
Legal Requirements
All knives sold in Australia through Knife Depot require the purchaser to be over the age of 18 years. Knife Depot reserves the right to refuse the sale of a product to any person under the legal age.