CLICK HERE TO SEE OUR FULL RANGE OF BENCHMADE KNIVES 
Who are Benchmade? 
Founded in 1979 and based in Oregon, Benchmade have become one of the top knife manufacturers in the United States, with distributions across the globe. The team at Benchmade are passionate and dedicated to making blades of the highest quality, and with over 350 employees and one of the best factories in the industry, they are able to do so. Their claim to fame is the 3 M's, which are Materials, Mechanisms and Manufacturing. Benchmade offer a wide variety of knives, ranging from high-end collectors blades, to heavy duty utility blades and recreational everyday knives. Whether you are a collector of high-end blades, in the military/law enforcement, looking for a blade for hunting/fishing, or just looking for an everyday knife, Benchmade offer a wide variety of elite knives that are sure to meet whatever your needs may be. Benchmade's focus is heavily invested in making high grade tactical combat knives, which is an area in which they are dominant and excel in.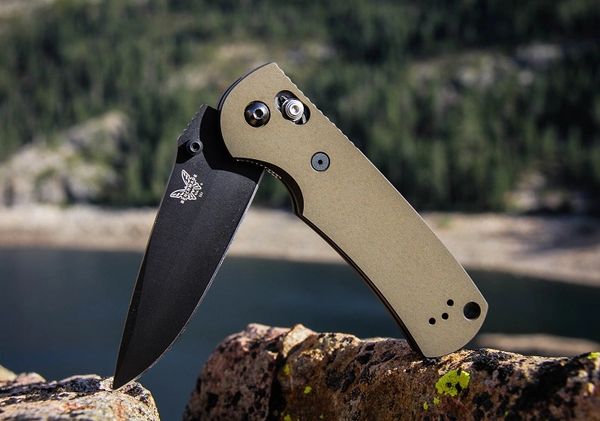 Materials
Benchmade builds knives for a wide range of customers, from special forces, who need their knife to operate seamlessly in the most demanding situation, to hunters, or just everyday users. In order to build blades of this standard, Benchmade use raw materials of the highest quality. Using premium steels paired with aerospace-grade handle materials, Benchmade produce premium knives for all their customers, no matter what price range they are in or what their needs may be, producing blades that come in a large range of colours, patterns and designs, and blades that the quality is considered to be second to none.
Talk to anybody in regards to a Benchmade knife they have used over the years and a common thread is always heard, and that is how well the blade holds an edge and also the durability of the blade in everyday use. Benchmade knives also maintain their usability for years even under the harshest of conditions, in other words, the locking and release mechanisms maintain their functions the same as the day you bought them.
Mechanisms
Benchmade pride themselves on the high-quality and functional opening and closing mechanisms on their blades, which can be actuated with ease, generally with one hand, and will live up to any customers needs, no matter which hand they use, or how much they push the blade to the limits. A perfect example of this is their highly acclaimed and admired AXIS Lock mechanism (seen below), which was first introduced on their Benchmade 710, and instantly kicked off in the knife market across the world.
Who uses Benchmade?
Benchmade categorises their knives into three major classes, these are:
Gold Class – These knives are Benchmade's flagship knives, made using only the finest designs and materials, their target demographic is generally wealthy knife collector looking for a new knife to add to the collection.
Blue Class – These knives are Benchmade's more standard range, at a more affordable price, less flashy in design but still made from incredibly high quality materials, their target demographic is everyday users and knife enthusiasts looking for a good, sturdy everyday blade. If you are in the market for a good quality EDC knife, that will last a lifetime, the Blue Class is the perfect starting point for you.
Black Class – These knives are Benchmade's most elite and tactical knives, built purely for functionality, performance and durability, their target demographic is generally Law Enforcement or the Military, however some of their blades are made available for the general public. Black Class knives are tested and used in some of the most harsh conditions you could possibly put a knife under, so if you are in the market for a knife that absolutely has to perform, even during abusive situations, the Black Class will never let you down. Ask any Military, Police or First Respondents who have used a Black Class Benchmade knife what their thoughts are on this tool, and they will no doubt tell you how durable and tough the build quality is and also how usable they are in emergency situations.
Manufacturing
All Benchmade knives and accessories are produced in the USA and are produced to the strictest quality control standards. Benchmade are world leaders in manufacturing high quality knives, which is partly a result of their factories being one of the best in the industry. They use state of the art technologies in their laser cutters and CNC machining centres, that offer a high level of control and accuracy, resulting in products being made to within half the width of a human hair of perfection.
When making a Benchmade knife, it goes through 8 primary stages that are:
Laser Cutting
Surface Grinding
Blade and Handle Milling
Bevelling
Back Sanding
Finishing
Assembly
Sharpening
In the laser cutting stage of production, Benchmade technicians will start with merely a large sheet of steel. This steel is placed on the laser cutter, which will cut blanks out of it. The blanks are removed from the steel after being laser cut, and are measured to ensure that they meet Benchmade's high standards in tolerance level. We then move on to the surface grinding stage in production, where the blanks are taken and ground to an incredibly precise width and thickness, before being checked over for faults or errors in the measurements and sizing, as only the blades within the width of a human hair to the blueprints are used. The third stage of the production of a Benchmade, is the Blade and Handle milling, where all handles and any grooves or blade holes are cut using high speed mills, all the while ensuring that these components meet Benchmade's high standards of tolerance. When moving on to the Bevelling stage of production, a technician will take the blade and bevel it into the correct shape one side at a time. The technician takes measurements to ensure that both sides match perfectly, before the blade gets moved onto the next stage, where a back-sanding technician takes the blade and smooths out the back of it with a standing belt sander. Here, we finally move on to the finishing of the blade, where blades are cleaned and any scratches, flaws or blemishes are removed to give the blade a more refined look. It it washed and then laser marked with the Benchmade logo. Finally, the Benchmade will be assembled by a technician who ensures that all the measurements are correct, before crafting the knife and moving it along the production line to be expertly sharpened by a sharpening technician to a 30° inclusive angle, 15° on each side. Throughout the production of a Benchmade product, up to 35 different people can handle the materials used in manufacturing a single knife.
Warranty
All Benchmade knives are backed by a lifetime warranty that is provided in Australia with all purchases through knifedepot.com.au. Any issues with your Benchmade caused through regular use will be fully covered and your product will be repaired or replaced. This is how confident Benchmade are in their knives, and when you use a Benchmade knife, you will see where this confidence comes from.
All Benchmade knives also come with LifeSharp, which is support through a team of specialised knife technicians, whose only job is to guarantee that your Benchmade product is living up to your expectations for its entire lifetime. If anything is wrong with your blade, you can send it to the LifeSharp team at Benchmade, who will strip it apart, replacing any worn or damaged components, before reassembling the blade, sharpening it and shipping it right back to your doorstep, at no cost to you.
Legal Requirements
All knives in Australia sold through Knife Depot require the purchaser to be over the age of 18 years. Knife Depot reserves the right to refuse the sale of a product to any person under the legal age.