Sale!
Beaver Craft LS4CP1 One-Sided Leather Strop Paddle with P01 Polishing Compound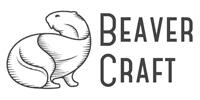 Knife Depot are an authorised dealer of all Beaver Craft products within Australia.
All products sold through Knife Depot are covered by Beaver Craft's manufacturer warranty.
Beaver Craft introduces a one sided stropping paddle which is used for sharpening and buffering the knives of your choice. This strop comes with a dense piece of leather glued to a piece of wood, as well as a stick of polishing compound. The process becomes much easier and more effective with the compound, helping with the buffering. You can successfully hold the leather strop comfortably and then cover it with the polishing compound to get your chosen knives shiny and smooth for the carving process. This strop is ideal for getting a clean edge on a Sloyd knife, Chisels, draw knives and carving tools. The Green Compound works perfectly when polishing the blades and has a better chance of being able to see your own reflection once the stropping is done.
Surface – cowhide leather
Length – 225 mm (8.60 inches)
Width – 65 mm (2.50 inches)
Base material – Ashwood
Have you considered this?
Out of stock
How to Use a Leather Strop? 🔪
Let's Talk Wood Carving Knife Models from BeaverCraft
Description
Dimensions:225 x 65 x 25 mm (8.6 x 2.5 x 0.9 inches)