When it comes to hunting knives, few manufacturers can match the quality and craftsmanship of Muela. For over 60 years, this Spanish knife maker has been producing some of the finest hunting knives in the world, combining traditional craftsmanship with modern materials and designs.
At the heart of Muela's knife lineup are their legendary Bowie knives. Available in 14, 16, and 18-inch models, these knives are the perfect tool for the serious outdoorsman who demands the very best in performance and durability.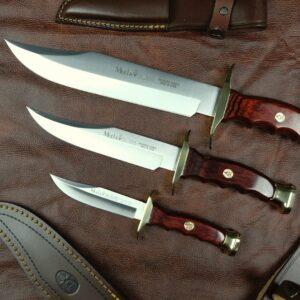 The Muela Bowie 14 is a sleek and elegant hunting knife that is perfect for a variety of outdoor activities. With a 6.5-inch blade made from high-quality stainless steel and an exquisite cocobolo handle, this knife is as beautiful as it is functional. Whether you're dressing game or carving wood, the Bowie 14 is the perfect tool for the job.
For those who demand a little more size and heft from their hunting knife, the Muela Bowie 16 is the ideal choice. With a 7.5-inch blade and a handle made from genuine stag horn, this knife is designed to handle even the toughest outdoor tasks. Its classic Bowie shape is perfect for piercing, slicing, and chopping, making it a versatile tool for any outdoor enthusiast.
If you're looking for the ultimate hunting knife, look no further than the Muela Bowie 18. With a massive 9-inch blade and a handle made from beautiful rosewood, this knife is designed to take on even the most challenging outdoor tasks. Its size and weight make it perfect for heavy-duty chopping and slicing, while its razor-sharp edge can handle the most delicate of tasks with ease.
All of Muela's Bowie knives are crafted from high-quality materials and designed to the highest standards of quality and craftsmanship. They are not only beautiful to look at but also incredibly functional and designed to last a lifetime.
In addition to their Bowie knives, Muela also produces a wide range of hunting, camping, and outdoor knives that are perfect for the serious outdoorsman. From their classic Skinner and Gut Hook knives to their sleek and modern tactical knives, Muela has a knife to suit every need and taste.
If you're looking for the finest hunting knives on the market, look no further than Muela. With a commitment to quality, innovation, and craftsmanship, Muela is the perfect choice for the serious outdoorsman who demands only the best.
For more information visit the official Muela website.