Sale!
LynchNW Spyderco Shaman Deep Carry Titanium Clip – Blacksmith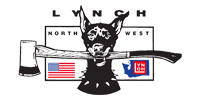 Knife Depot are an authorised dealer of all LynchNW products within Australia.
All products sold through Knife Depot are covered by LynchNW's manufacturer warranty.
This clip was designed for and fits the Spyderco Shaman knife. There are no other known compatible knives.
They are made in Washington state, USA from domestic 6AL-4V titanium, and are hand-formed and finished.
Each clip carries a lifetime guarantee – if you bend or tweak it, they'll replace it, no charge.
Available on back-order