Sale!
Glow Rhino Black Lanyard Hole Plug with Green Tritium for Benchmade Bugout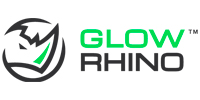 Knife Depot are an authorised dealer of all Glow Rhino products within Australia.
All products sold through Knife Depot are covered by Glow Rhino's manufacturer warranty.
A quick upgrade for your Benchmade Bugout – The first of their kind, Glow Rhino puts tritium into your Benchmade Bugout's lanyard hole. Benchmade makes an amazing knife, we all agree. But what if you could easily find your favourite knife in low light without the need for a flashlight?
Visible on both sides.
Installation is simple. Loosen the knife scale screws closest to the lanyard hole, and simply slide the plug into place. Once set into the lanyard hole, tighten your scale screws back down, and hit the lights to see the Tritium glow!
Compatibility: Benchmade Bugout 535 OEM Injection Molded Glass-Filled Nylon Scale Models (NOT recommended for G10, Carbon Fiber, Aluminium, or aftermarket scales)
Knife not included.
Features:
2 Cylindrical Tritium Lamps Included (double sided)
Easy Installation!
CNC Machined Stainless Steel
Black Nitride Coating
In stock
Live Count: Geelong Warehouse
1 left in stock.
Brand
Glow Rhino
Glow Rhino is a company based in Detroit that specialises in making everyday carry gear more unique and engaging with the use of self-luminous tritium inserts. For decades, Glow Rhino have been putting these high-quality tritium inserts into gun sights, making them more visible in low-light conditions. Now, Glow Rhino are expanding their use of tritium to include other products like key chains, scales, and knives. With Glow Rhino's products, you'll always have a little light in your life.