Sale!
Beaver Craft DK2S Drawknife with Leather Cover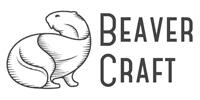 A drawknife (drawing knife, draw shave, shaving knife) is used to shape wood by removing shavings. This drawknife is a perfect tool if you want to remove thin slices of wood for flat faceted work. This shaving knife is designed for planing faceted parts or shaping a small circle. The blade has a thickness of only 3 mm, since this knife is designed for finishing delicate work. The blade is made from durable high carbon steel, hardened and well sharpened, and, when not in use, is protected by a leather sheath. The handles are made from Ashwood and covered with natural linseed oil.
Blade length

– 120 mm (4.72 inches)

Blade thickness

– 3 mm (0.12 inches)

Handle length

– 105 mm (4.13 inches)

Total length

– 330 mm (12.99 inches)
Weight — 150g
In stock
10+ left in stock.
Brand
Beaver Craft