We are excited to bring a new brand to Knife Depot.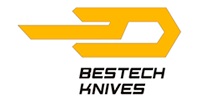 Bestech are renowned for their high quality knives made from premium materials. They have a talented in-house design team and also utilise talented knife makers and designers from around the globe in their knife designs.
From collaborating with knife makers and designers from all over the world and precision machinists, Bestech have positioned themselves to be a leader in innovation and design with a clear focus on continuing this into the future.
With a range of budget friendly knives that will have anyone excited to get their hands on, to a premium range unitising titanium and other high end materials combined with premium steels.
From trying out different blade designs and shapes to utilising a range of handle and liner material it is easy to see that Bestech is a company that you can get excited over. We look forward to bringing you even more Bestech models in the future.