Sale!
Opinel Paring Knives #112 Classic Stainless Steel Set of Four (blue, yellow, red, green)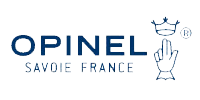 This set of 4 #112 paring knives are the small essential multi-purpose knife for slicing, chopping and peeling fruit and vegetables and for trimming meat.
The paring knives feature a 10 cm blade made from Sandvik 12C27 stainless steel (Martensitic stainless steel with high hardness due to the addition of nitrogen (0.15%) and superior corrosion resistance due to a high chromium content (16%))and the hornbeam wood handles come in classic colours (Coming from French forests, hornbeam with few veins is ideal for applying colour. The handle is varnished to be protected against moisture and dirt).
In stock
Brand
Opinel