Sale!
Manker EP02 Titanium Tactical Pen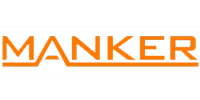 $109.95
or 4 payments of $22.49 with
The Manker EP02 is a tactical pen made from Titanium TC4 alloy, resulting in a lightweight, yet sturdy and durable pen. The glass smasher on this tactical pen is made from Tungsten steel, as opposed to the standard ceramic of most tactical pens, which makes it much easier to smash through car windows or other glass in an emergency. The flat pen head helps to keep your thumb secured, so that you can effectively use the pen as a self defence tool, should the need arise.
Brand
Manker